IHI-Sullair Compression Technology (Suzhou) Co., Ltd. is a Joint Venture invested by Ishikawajma-Harima Heavy Industries Co., Ltd . (IHI) and Sullair Asia in order to produce and sale advanced standard type turbo compressors. IHI is one of Japan's leading heavy industries with history of more than 160 years, which operation now ranges from designing and building of shops, offshore facilities, bridges, industrial machinery & plants, and aerospace products. In Japan, IHI's market share for the turbo compressors reaches around 80%. Sullair has been developing and manufacturing air compressors with proven reliability and wear-free durability since 1965. Worldwide, Sullair compressors are known for their durability and longevity.
IHI-Sulliar factory is the first time they work together in the industry. With the world advanced technology and world wide marketing network. We produce a variety of turbo compressors such as TX, TRA, TRE, TRX, f series, which are best suited to particular requirements in such key industries as steel and iron production and petrochemical industries, manufacturing industries for automobiles, ships, electrical equipments and machinery, public service field for power generation and gas supply, as well as the construction field, food industry and medical industry. We can provide prompt and professional service to all the customers all over the world.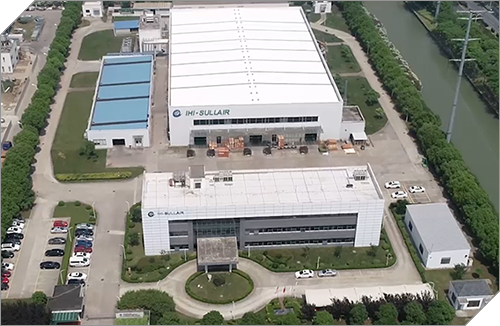 Now we are concentrating to make great efforts to satisfy all the customers' need and contribute to the social development, and work hard to gain the shareholders and employees' satisfaction by profits generating and value increasing.